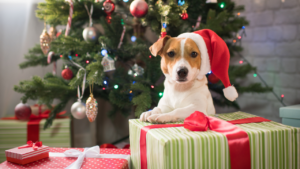 With the holidays in Myrtle Beach right around the corner, it's probably time to start decorating your home.While you're making your home feel wonderful, don't forget safety. Keep your dog's safety in mind as you prepare for family gatherings. There are a few things to keep in mind that some people may overlook. That's why we're here to offer some safety tips for your pets this Holiday season.
Holiday Candles & Hanging Lights
Dogs like to sniff and investigate everything, sometimes even things that should be left alone. When it comes to Christmas lights, keep them out of reach from any curious canines. There is always a possibility that your pet does get shocked or start a fire. Most dogs, especially puppies, love to bite. Because of this, it is important to keep all wires well out of your pup's reach.
During the holiday season, candles are also often used as decorations. If you choose to light candles around your home this season keep them out of reach of your dog's wagging tail so that your home and your dog is safe.
Festive Treats
While it may seem tempting to share the delicious holiday meals you've prepared, it is important to keep in mind that many of them can be toxic to your pet. Turkey and ham – specifically the ham skin and any stuffing that may still be on the bone – are packed with too much sodium for a dog's stomach to properly digest. Other holiday favorites may contain too many seasonings like onion and garlic that can be very harmful to your pets.
It is also important to remember that chocolate of any kind can be extremely dangerous for your dog. We know it is hard to enjoy your favorite sweets while your furry friends beg, but opt out for a chewy dog treat or a little whipped cream instead.
Christmas Trees & Holiday Plants
Christmas trees may be exciting and new to your dog, but they can also pose a danger. The high concentration of pine oils in the needles can be toxic if ingested or chewed on by your pet. Although some dogs may not show signs unless they chew on the tree for an extended period of time, others can have stomach upset or vomiting if they get into the holiday tree. In addition to possible physical harm, you could also risk losing a holiday decoration. If your dog is able to pull down decorations or knock them down through rough play. Pine needles can also easily irritate your dog's paws.
Forget about the mistletoe and holly – these holiday décor items can cause serious harm to your dog. The berries of both plants can cause vomiting, dehydration, and possibly diarrhea.
Presents & Your Pups
Your pup is curious about the new smells under the tree, but there are many holiday hazards that could be harmful if eaten. Bows, ribbon and other wrapping paper are all possible choking hazards and can cause problems internally if swallowed. An idea to keep holiday gift décor off the ground and out of your dog's mouth is to keep a couple trash bags nearby while opening gifts. Once a gift is opened, all disposable items can go right into the bag. Your pup will thank you later!
Happy Holidays from Coastal Paws Pet Resort!
As animal lovers, we know that your pets are your babies and they should enjoy the holidays all the same with these safety tips for your pets this Holiday season. Vacations are right around the corner, too! If you are looking for dog boarding services in Myrtle Beach, contact Coastal Paws Pet Resort. We are a luxury pet resort and doggie daycare and offer unmatched, quality service for you and your pet every day of the year. Call us at 843-800-PAWS (7297) to book your pet's next stay.