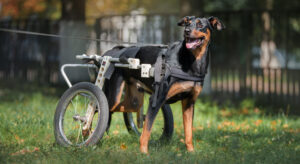 Dogs with special needs can be boarded just like any other dog. Careful consideration should be given to the boarding facility that you choose for your particular dog. Just as care is taken when selecting for a lifelong family member, the same care should be taken selecting a boarding provider for your beloved pet. Any dog can enjoy our resort, but we also love to accommodate dogs with special needs. We want to make your dog's stay at Coastal Paws Pet Resort the best it can be, so here are some tips on how to make boarding easy for your special needs pets.
Set Your Dog Up For Boarding Success
Dietary Requirements
Dietary restrictions for pets are more common than you think. Between allergies, intolerances, or just plain opinion, many dogs have things they like or don't like. If your dog has special dietary requirements, we are happy to accommodate them. Simply bring their food and instructions, and we will do the rest. You and your pet can rest easy knowing that they are in caring hands!
Medicine
If your dog has a chronic illness or has just gone through an operation, there are medications that need to be administered on a regular basis. We are happy to do this for you when you bring your pet to Coastal Paws Pet Resort! We just wish to know the dosing and proper way to administrate the medication.
Before boarding your pet, please pack medication and dosing information in its original bottle. This will help us properly administer the medication during their stay. It could also help to provide their favorite treats to make administering the meds a little easier for everyone.
Behavior
Like humans, some pets can have fears, anxieties and behavioral problems. We're here to help and our staff is trained to handle dogs with behavioral issues. We ask that you provide any information on fears or anxieties at check-in, along with any aggressions they may be prone to display, so that we can ensure your pet's stay at our hotel is a happy one.
Physical Disabilities
We love all dogs, and we make sure your dog gets the attention they need while they are with us. If your dog has special needs, please let us know so we can provide them with the care they require. Dogs that need extra attention due to handicaps such as blindness, deafness or paralysis will be monitored by staff members throughout their stay here.
Special Boarding for Special Furry Friends
As animal lovers, we know that your pets are your babies and we want to make boarding easy for your special needs pets. If you are looking for dog boarding services in Myrtle Beach, contact Coastal Paws Pet Resort. We are a luxury pet resort and doggie daycare and offer unmatched, quality service for you and your pet every day of the year. Call us at 843-800-PAWS (7297) to book your pet's next stay.