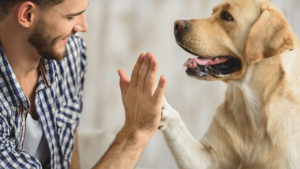 Is it time for you to add a furry friend to your home? Searching for a dog to adopt can sometimes feel overwhelming – there are so many dogs at shelters and in rescues, but not all of them are created equal. You likely want to bring home a healthy and happy pup, who is easy to train, gets along well with other pets, and will be able to fit into your lifestyle and household. Seniors dogs are often overlooked when people are looking for their new best friend, but they deserve homes too! If you're interested in making sure that the dog you choose will be well cared for while waiting for their forever family, check out some amazing reasons to adopt a senior dog – they may be just right for you!
Why Adopt an Older Dog?
1.) Old Dogs CAN Learn New Tricks
Are you worried your senior dog won't be able to learn new tricks? Well, don't be! Dogs can be trained at any age – not just as puppies. Actually, older pups can be easier to train than puppies because they are less hyper and more likely to focus. Puppies have a short attention span as they explore their new world, where senior dogs may be more likely to pay attention.
2.) They Are Past The Teething Phase
All dogs need to chew. While this is a natural behavior for puppies and young dogs, it's not as common for seniors. Because of this, your belongings are more likely to be safe from your pup's teeth with an older dog. Even if they do like to chew, senior dogs will learn much more quickly that they can't do so.
3.) So Much Love!
Older dogs can be the best companions for anyone who cares for them properly. Don't assume your senior dog won't love you back just because they haven't formed a connection with you from their childhood. Dogs are highly intelligent creatures. If you provide them with love, affection, and safety, they will get attached right back to you, no matter how old or young they are. Plus – they're more likely to enjoy a lazy night in with you!
4.) Calm and Collected
Everyone knows that puppies are super hyper – from running around to destroying toys and belongings. However, older dogs are a little more tame, making them great companions for people who can't match the energy of a puppy. They're calmer and settle down quicker than a young dog, so you won't need to tire them out after a long walk or play session. They also tend to have much more patience for training and playing than young dogs
5.) You Know What You're Getting Into
With senior dogs, you know what to expect. These animals have already expressed their personality and have matured so you can make a better decision on what dog would be best for you. Additionally, you already know their size – no need to be guessing the future like you may need to with puppies. This is particularly important if you live in apartments or rentals that have a weight limit for certain pets.
6.) Every Dog Has Their Surprises
If you still have room in your heart and home for a senior dog, they could be the perfect companion. They might be a little slower to adapt to new situations, but they have lots of love to give – they will happily adapt to a new and loving home, so that you can enjoy each other's company as much as possible.
There are so many amazing reasons to adopt a senior dog. Remember the importance of adopting a dog rather than purchasing one. There are so many older dogs ready to play and explore with you in your local shelters!
If you're looking for a place to house your pet for those holiday travels, Coastal Paws Pet Resort in Myrtle Beach is the place to go! We are a luxury pet resort and doggie daycare and offer unmatched, quality service for you and your pet every day of the year. Call us at 843-800-PAWS (7297) to book your pet's next stay.