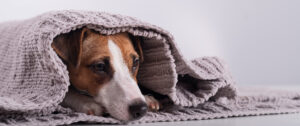 Canine depression occurs for a variety of reasons. When the days are short, nights longer and the cold winter months begin, boredom can set in for both you and your dog. Many dogs become inactive in the winter time, or have difficulty sleeping. Your dog may experience a case of "cabin fever" which can lead to behavior problems, or even affect their health. Here are a few creative ways to keep your dog busy in winter.
Toys and Indoor Play
Not all play happens at the dog park. Make some room for you and your dog to have a little play date right at home! Bring the fun indoors with a few simple games, like tug-of-war or an agility course using boxes and baby gates. Or set up a kiddie pool full of balls or pillows, where your dog can search out a treat! Whatever you would normally do outside, you can always alter it for some indoor fun!
New Walking Route
Even in the winter, you can still go on walks with your dogs. All you need are some Winter coats for your dog and perhaps a pair of booties. Try taking a smaller route than you normally would; talk a walk around the neighborhood just to get both of your steps in without having to deal with the winter stroll through a path that may be blocked by debris. Don't feel like walking in the cold? Try a drive! Take your pup on a car ride around town and let them enjoy the fresh air.
Teach New Tricks
Any dog can learn new tricks! Have you been looking for the opportunity to teach them to "spin", "shake", or "fetch"? The winter is the perfect time to do so. Spending time with your pup can help them learn they way you want, and can be a fun exercise to help the two of you bond.
Make Your Own Treats
If it's too cold to do anything outside this winter, why not try your hand at some baking? You could make your own dog biscuits, or experiment with recipes that are healthy for your pet. Some great ideas include peanut butter biscuits, pumpkin dog treats, or even frozen puppy ice cream! The perfect way to practice in the kitchen is with a happy taste tester by your side!
With all of these creative ways to keep your dog busy in winter, keeping your pup active is important to their overall health and attitude. Keeping your dog going during the winter months is a great idea to keep them happy, healthy, and well-behaved. If you're looking for a place keep your dog active, Coastal Paws Pet Resort in Myrtle Beach is the place to go! We are a luxury pet resort and doggie daycare and offer unmatched, quality service for you and your pet every day of the year. Call us at 843-800-PAWS (7297) to book your pet's next stay.