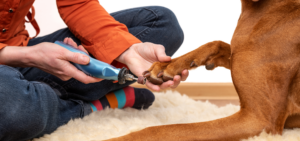 We all love our dogs. However, chances are that trimming their nails is near the top of your list. Maybe he tries to bite you sometimes, or maybe he's sneaky and nips when you're not looking. Or maybe he's just frightened by the big, scary clippers. Regardless of issues you may have with your pet, here are some tips on why it's important to trim your dog's nails.
Why Do Dogs Need Their Nails Trimmed
One of the overlooked aspects of grooming is the need to make sure that your dog's nails are trimmed. The nails may not cause any issue while they're growing, but as they get longer, they can become a potential hazard for your dog as well as others who come in contact with them.
If your pup's nail are kept long, it can cause them to break or chip. This could create cuts or scrapes on their paws and cause pain. Longer nails can also interfere with how you dog uses their paws. When nails are pushed into their paws, it can cause posture issues and balance issues as they grow, especially in young puppies. This can lead to medical issues like arthritis or joint pain. These are things that are already high risk for larger breed dogs. Trimming your dogs nails can stop unnecessary pain to your furry friend when walking or playing and can overall help their mood and activity levels.
Trimming Tips
Your dog's nails should be trimmed regularly to avoid uncomfortable splitting, cracking and splintering. If your pet isn't used to having their nails clipped, start by introducing them to the clippers through positive training. Make sure your dog is comfortable with their paws being handled before trying to trim their nails. Work slowly so as not to cause any unnecessary pain or injuries.
Clippers are a must-have item in every dog owner's home, so make sure that you have a good pair on hand. Sharp and precise, they offer an easy way to trim away excess nail from your furry friend's paws. For best results, always hold the clippers at a 45-degree angle when you cut each nail. Also, it is important to stop before reaching the pink part of the nail. If you dog has black nails, stop clipping once the whitish interior stops. This way, you won't accidentally cut the quick and cause pain for your pup.
Trimming your dog's nails does not have to be an everyday task. Realistically, you can clip their nails once they are long enough to reach the floor (and you can hear the little pitter patter of them coming on your hard floors). It is also a good idea to check them visually to get a better idea of when they should be cut.
Keep Up The Good Work
This nails-are-no-joke approach can be a bit overwhelming, especially if your dog has never had their nails clipped before. Here's the good news: Once you and your dog get used to this routine (and it can be a bit time consuming initially), it won't seem like a big deal. It's good to know why it's important to trim your dog's nails to help strengthen your pops overall health!
Coastal Paws Pet Resort is the place for you! We treat all of our guests like family and wouldn't have it any other way! Don't hesitate to reach out with any questions or to book your first stay!