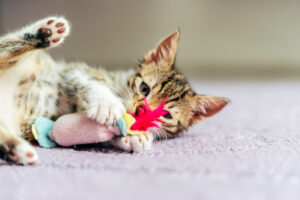 One of the most important tasks of owning a pet is giving them the care that they need. While the majority of pet owners don't want to leave their beloved dogs and cats at home alone for long periods of time, it will happen. Cat boarding facilities can reduce some of your worries and stress; you have a place to drop off your furry friends rather than leaving them alone for your entire trip away. You may be asking yourself: is boarding right for your cat? Us at Coastal Paws Pet Resort are here with answers!
What is Cat Boarding?
We know that you're worried about your kitties, so you might be skeptical about leaving them in a place where they've never been before. But don't worry–these facilities are specifically designed to make cats feel comfortable and well taken care of while their owners are away. They have everything your kitty needs, plus you'll be able to see an improvement in their overall well-being even before you get home.
Reasons to Board your Cat
There are many benefits to boarding your kitty while you are away. As you know, leaving your cat home alone can take a toll on their behavior and health. While some cats are less inclined to socialize with other cats, they could get lonely and even anxious if you leave them alone for more than twelve hours.
A great choice for both you and your cat is a pet boarding! Pet boarding facilities provide structured playtime with other cats, and it also allows you to work without worrying about leaving your feline friend alone.
Is Boarding Right for Your Cat?
As a cat parent, you want to know that your pet is in good hands when you drop them off at a boarding facility. To make sure the boarding center meets your standards, check for reviews, how long they have been in business, and what training they offer.
Make sure your cat is happy and comfortable with the center. When visiting a facility, ask if they allow you to talk to employees and see the layout of the building. Also, look into your cat's dietary and medical needs. Find out if the facility provides on-site medical care and if the staff can stick to your kitty's medication schedule.
Cat Boarding at Coastal Paws Pet Resort
With all of these creative ways to keep your dog busy in winter, keeping your pup active is important to their overall health and attitude. Keeping your dog going during the winter months is a great idea to keep them happy, healthy, and well-behaved. If you're looking for a place keep your dog active, Coastal Paws Pet Resort in Myrtle Beach is the place to go! We are a luxury pet resort and doggie daycare and offer unmatched, quality service for you and your pet every day of the year. Call us at 843-800-PAWS (7297) to book your pet's next stay.