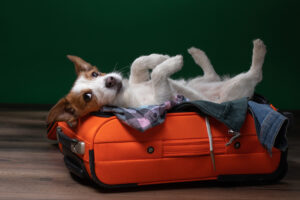 You're about to go on vacation! While you wish you could take your furry friend with you, that isn't always possible. It's the perfect time to have someone take care of your dog or cat while you're away. Of course, you may be wondering if it's a hassle to get your pet used to boarding right before vacation. The truth is deciding to board them isn't an easy decision. However, there are many reasons why boarding can be a great choice for both you and your pet. From play dates to all-around care, pet boarding can even be beneficial to your dog's social health. If you're still on the fence, here are a few reasons why boarding your pet for summer vacation may be a good idea for you.
They can get the attention they need
Pets may be stressed when their owners are away. A pet boarding center will make them feel at ease and comfortable until you return home. Most boarding facilities offer daily play time to make sure your pets are energized and given attention. We make sure that our trainers are spending amicable time with your pets to ensure they are always comfortable. Places like Coastal Paws go above and beyond to treat our guests as royalty. Your pets are staying in a special resort, just for their comfort!
They can get plenty of fresh air
Pet boarding facilities provide safe access outside for pets, allowing them to play and run around in a controlled environment. If you live in an apartment, it can be more difficult for your pet sitter to make sure your dog or even cat can easily get their daily fresh air.
They can socialize
When you take your pup to a boarding center, they will have the opportunity to interact with other pups and staff members at all times—not just while they're in the play area. It's hard enough getting your dog to adjust to being left at home for a few days, so choose the place that helps them feel comfortable and happy from day one.
You can enjoy your vacation
Since your pet is constantly cared for, this can offer peace of mind and help you relax during your vacation. With the option for updates and sometimes video access, you can ensure you can still check in on your pet. Boarding is a great way to make sure that crazy sitters or sometimes even strangers aren't taking inadequate care of your furry friends.
If you board your pet at Coastal Paws, we'll ask you to leave an emergency contact number and will reach out to you if necessary. But if not, you can call any time to ask how your pet is doing!
Pet Boarding at Coastal Paws
Coastal Paws is at your service and ready to help boarding your pet for summer vacation in a safe environment! We are a luxury pet resort and doggie daycare and offer unmatched, quality service for you and your pet every day of the year. Call us at 843-800-PAWS (7297) to book your pet's next stay.