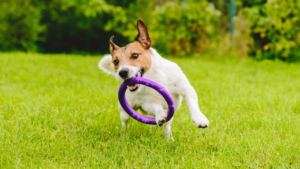 Packing all the things you need for a trip can be a stressful process, and that's the same for your pooch. But with the right items, planning for a vacation will be much easier and less stressful for everyone. Here are some of the items to pack for doggy daycare.
Include Your Dog's Medication and Supplements
All pet owners want their furry friends to be healthy and happy. Your dog may require supplements or medication for joint health or general immune system support. Remember to pack their medication for doses needed while they are staying at the resort. A professionally-run dog boarding service is always willing to administer the appropriate dose of these medicines while your pet stays with us.
Your Dog's Medical and Vaccine Records
If this is your first time boarding, most facilities require pet owners to provide vaccination records as well as medical records. We like to make sure everyone's furry friends are healthy for the safety of other pets. Your pet must be free from contagious diseases one month before boarding. Remember to bring your most up-to-date vaccine and medical records that you will present to doggy daycare.
You Can Carry Meals from Home
Dog boarding is a way to let your pets socialize, play and enjoy their stay. However, your pup also needs to feed regularly to be happy. It is essential to maintain the same feeding habits your dog is accustomed to when taking it to dog daycare. If your dog has a specific diet, remember to bring lunch or dinner for them! Maintaining your regular feeding routine will keep it from feeling lonely and prevent stomach problems.
Your Pup's Favorite Toys
When away from home, the heart can grow fonder. That's why packing their favorite items can serve as a remainder, which averts loneliness. Be sure to pack one or two of the items your pup loves. You may also include a personal item, such as a blanket or a shirt with your scent.
Dog Collar and an Extra Leash
While you can use a regular collar and leash, here are some extras to consider when you are boarding your dog. Collars and leashes may get lost or damaged while your pet is at the kennel. It's important to have an extra collar, and keep it in the same location so it will always be there when you need it.
Dog Boarding with the Best
Your pup doesn't have to feel lonely or sad while you are away. Boarding service is usually the best option when taking a vacation. If you are looking for dog boarding services in Myrtle Beach, contact Coastal Paws Pet Resort. We are a luxury pet resort and doggie daycare and offer unmatched, quality service for you and your pet every day of the year. Call us at 843-800-PAWS (7297) to book your pet's next stay.