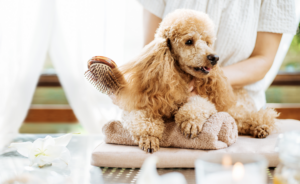 Our furry companions hold a special place in our hearts, and providing them with the care they deserve is essential. At Coastal Paws Pet Resort, we understand the importance of pampering your beloved dogs. That's why we're thrilled to offer our exclusive Spa Day service at our dog daycare. Treat your furry friend to a day of pure indulgence, complete with a luxurious bath, brush, dry, and so many other options to choose from. Not sure where to start? Here are a few ways you can pamper your pooch at Coastal Paws Pet Resort.
A Luxurious Bath:
Our Spa Day begins with a refreshing and relaxing bath using high-quality, dog-friendly products. Our skilled groomers will ensure your pup's coat is thoroughly cleansed, leaving it shiny, soft, and free from dirt or impurities. We also carefully select the perfect shampoo and conditioner for your dog's specific needs, whether they have sensitive skin or require extra moisturization.
Gentle Brushing and Drying:
Afterwards, your dog will receive a gentle brush to remove any loose fur and tangles. This process keeps their coat looking neat and beautiful and promotes healthy skin and stimulates blood circulation. After the brushing session, we provide a thorough yet gentle drying process to ensure your dog's comfort and prevent any dampness.
Ear Cleaning:
Ears are often neglected when it comes to regular grooming routines. However, our Spa Day includes a meticulous ear cleaning session to keep your dog's ears clean and free from debris or excess wax. Our trained professionals use gentle techniques and specialized solutions to ensure your pup's ears are fresh and healthy.
Soothing Blueberry Facial:
One of the highlights of our Spa Day service is the indulgent blueberry facial. This luxurious treatment uses a specially formulated facial cleanser infused with blueberry extract. Not only does it help remove tear stains and dirt, but it also provides a soothing and calming sensation for your pup. The gentle massage during the facial promotes relaxation and leaves your dog with a fresh, radiant face.
Oatmeal Paw Treatment:
Your dog's paws deserve some extra care and attention too. Our Spa Day includes an oatmeal paw treatment that soothes and moisturizes your pup's paw pads. Oatmeal has natural healing properties and can provide relief from dryness, itching, or irritation. This treatment will leave your furry friend with soft, supple paws ready for any adventure.
Nail Trim:
To complete the spa experience, we offer a professional nail trim. Our trained staff will carefully trim your dog's nails, ensuring they are at an appropriate length to prevent discomfort or potential injury. We prioritize your pup's safety and use gentle techniques to make the experience as stress-free as possible.
Coastal Paws Pet Resort believes that every dog deserves to be treated like royalty. Our Spa Day service is designed to provide the ultimate indulgence for your furry friend. From a luxurious bath to a blueberry facial, oatmeal paw treatment, and nail trim, our experienced team will pamper your pup from head to paw. Treat your beloved companion to a day of relaxation, rejuvenation, and grooming excellence.
Pamper Your Pooch at Coastal Paws
Spa days aren't just for humans, and we know your pet deserves one. There are always special ways to pamper your pooch at Coastal Paws. From cleanings and basic grooming to the full spa experience, we are more than just a luxury doggie daycare!
Coastal Paws is at your service and ready to help board your pet in a safe environment, or just enjoy a day with new friends at our doggie daycare! We are a luxury pet resort and doggie daycare and offer unmatched, quality service for you and your pet every day of the year. Call us at 843-800-PAWS (7297) to book your pet's next stay.