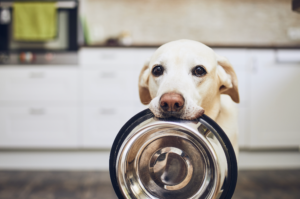 Dogs are omnivores and can thrive on a wide range of food, making them easy to feed. However, with so many options to choose from, it can feel like few options are right for your dog. Knowing what an adult dog should eat is a basic building block in proper canine nutrition, but it's even more important to know what not to feed your dog. With thousands of options and opinions from vets, friends, and dog lovers alike, it may be hard to know where to start. Choosing the right dog food for your pup can be a daunting trial and error.
The exact formula for your dog depends on several factors like the size, age, and activity level of your pet. Here are a few things to help you get started.
Nutritional Values
It's important to know all you can about canine nutrition. The internet is a great resource, but it's also important to exercise good judgment. The best advice comes from your own veterinarian – and if you still have questions about feeding your dog, ask for a referral to a veterinary nutritionist. When it comes to walking around the store, commercial dog food allows for a few different categories. These include:
All-Natural Foods
Prescription Diets from a Veterinarian
"Premium" Foods
Generic Dog Food Brands
Whole Food Diets
Raw Food Choices
Commercial diets are often available in wet, dry, and dehydrated forms. Dry food is the most popular, but dogs can eat wet or dehydrated meals just as easily. Decide which category best suits your dog, then start researching food companies. Don't forget to ask your vet for advice before making a final decision.
A lot of people prefer to avoid commercial diets altogether and make their dog's food at home. This allows them to regulate what goes into their pet's meals, which is important if you have a particular dietary restriction or want your dog to be free of certain ingredients. Unfortunately, making dog food at home can also be dangerous if not done properly, so it's important to follow a recipe or create one based on the proper nutritional standards
Understanding Dog Food Labels
The Association of American Feed Control Officials (AAFCO) has developed profiles for dog and puppy nutrition that can help you develop a nutritional plan for your pup. These standards should be reflected on your food's labels, but that information has been known to be a bit misleading. Just because a food meets AAFCO requirements, it does not mean it's the best food for your pet. Look for companies that exceed AAFCO guidelines and use high-quality ingredients. Choose foods with meat-based items listed as the first two to three ingredients, and avoid foods with too many fillers like wheat, corn, and soy.
Get Advice From Dog Owners
When choosing the right dog food, your veterinarian is a great place to start when researching. You can also talk to dog breeders, trainers, and groomers for more opinions. Your local pet supply store may also be of assistance, especially if it is a smaller, independent shop that carries top-quality diets. Educated pet professionals can give you their recommendations, but remember that not all experts agree when it comes to canine nutrition. The same goes for talking to other pet owners. Be prepared to get conflicting advice then take that information and research it on your own. However, you now know what is best for your pet after trying a few different options. It is great to have those to choose from when first starting out.
Feeding Your Dog
Most dog food companies offer samples or money-back guarantees, which can be helpful if your pet doesn't seem to like the food. Try out a few varieties to see which is palatable for your furry friend.
In order to make the switch from one food to another, you must do it gradually. Start by mixing a portion of your dog's old food with a portion of the new food in your dog's bowl over several days, until your dog is only eating the new diet. It can take up to 4 weeks for changes in overall appearance and attitude to appear, so monitor your dog closely during this time period.
Your Dog's Diet Over Time
When it comes to dogs, what they eat is very important. While some people feed their loved ones a variety of commercial dog food, others prefer to make homemade diets. However, if you want to keep your dog healthy and happy, it's important to rotate their commercial food diets every couple of months. Giving your dog a new diet from time to time is good for his health. If you go the homemade route, it is always important to feed complete and balanced food to your dog. Your veterinarian will be able to recommend recipes for your dog's particular needs.
Keeping Your Pup Happy While You're Away
A healthy diet is important for both you and your pup. Choosing the right dog food can be hard, but it doesn't have to be. It's important that you seek out advice from your vet and other pet owners, such as your neighbor or family members who own pets. You will find many opinions in this article to help you make the right choice for your dog.
Coastal Paws is at your service and ready to help board your pet in a safe environment, or just enjoy a day with new friends at our doggie daycare! We are a luxury pet resort and doggie daycare and offer unmatched, quality service for you and your pet every day of the year. Call us at 843-800-PAWS (7297) to book your pet's next stay.