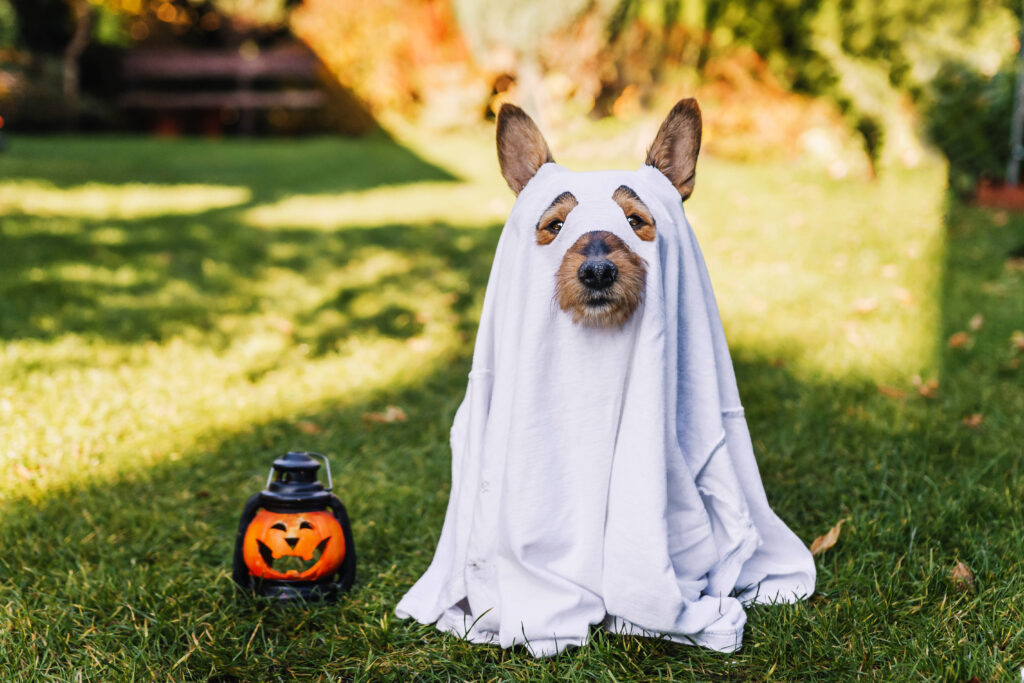 It's a spooky time of year, and there are plenty of amazing costumes and treats to enjoy. However, Halloween also brings on loud noises, potential hazards, and overstimulation for your four-legged friends. While costumes and candy are the perfect way to entertain your kids, you may have to be a little extra cautious when it comes to your pets as well. Still, with a little extra attention, you can ensure that your dogs (and cats) enjoy a safe holiday with you. Here are a few Halloween tips for dog safety this season.
Keep Them Comfy In Their Costume
Clothing your dog is a great way to make them feel like they're part of the festivities. However, not all dogs are going to like the headbands you put on them, dresses that may constrict their bodies, or booties to walk around. When searching for a costume for your pup, make sure it is comfortable, easy to move in, and doesn't include any small parts that can be chewed or broken off and swallowed.
Be sure to observe your dog's response. If your pet is restless or nervous, be sure to take off the costume immediately. We suggest trying on the costume a few times before Halloween Day so that your dog begins to feel comfortable in their outfit
Beware of Human Treats
While you're busy putting out your Halloween candy, don't forget about your dog! Dogs love to celebrate holidays too, but make sure to keep any human treats out of reach. While everyone loves a little chocolate, these tasty treats are extremely toxic to dogs. That list also includes xylitol, an artificial sweetener found in most sugary candy, and raisins.
If you want to be the cool neighbor, consider investing in some dog-friendly fall treats for the families that come around with their pups. Plus, then your own furry friend won't feel left out as you snack on that leftover candy later.
Keep Decorations and Candles Out Of Reach
Your dog is hyperaware of the changes in decor around your home. From pumpkins to cobwebs and candles, they are looking to explore these new things (usually looking for a little snack). For safety, it's important to keep your pets away from the decorations. Use battery-operated candles instead of real flames to avoid accidental burns and put pumpkins, toys, or treats out of reach to prevent dogs from playing with them.
Safe Spaces
It's Halloween, which means the kids will be coming to your door. While they can be cute and fun, they can be overwhelming for dogs, leading to stress or even injury. Set up a quiet, comfortable space for your dog away from the front door by creating a dog-safe room that smells of home rather than strangers or candy.
Remember ID and Microchip
If you're participating in Halloween activities, take extra care to keep your dog safe. Is your pet microchipped? If so, make sure you have proper identification on hand, as well as a visible tag on your pet, just in case they decide to go outside without you.
Accidents can happen, especially when you're opening your door much more than normal. It helps to have that extra precaution of knowing that if your pup does get out, he can safely find his way home.
Walk With Caution
Most dogs love Halloween but keep in mind that some costumes or decorations might frighten them. If you decide to bring your dog along trick-or-treating, make sure they are properly leashed. If your dog is not used to strangers, it's a good idea to ensure that they are safely walking by your side, and do not encourage passing trick-or-treaters to pet them.
Keep Your Dog Safe This Halloween with Coastal Paws Pet Resort
Halloween can be a fun and spooky time for dogs and humans alike. While trick or treating, costume parties, spooky decorations, and costumes can lead to stressed-out dogs, there is always a way to ensure a safe and stress-free time. A little preparation and these Halloween tips for dog safety can help ensure that your dog enjoys the holiday as much as you do.
We are more than just a pet daycare. From grooming and exercise to bathing, Coastal Paws is at your service and ready to help board your pet in a safe environment, or just enjoy a day with new friends! We are a luxury pet resort and doggie daycare and offer unmatched, quality service for you and your pet every day of the year. Call us at 843-800-PAWS (7297) to book your pet's next stay.